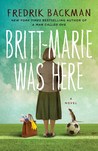 Britt-Marie Was Here by Fredrik Backman
My rating: 4 of 5 stars
I became hooked on this author after reading 'A Man Called Ove', and this was recommended by a fellow fan of his.
I very much enjoyed this story, and I especially liked the ending – despite it being unsatisfactory to me. The reason it was so unsatisfactory is because the author did such a wonderful job at allowing our protagonist a journey where she had so many choices ahead of her, that I couldn't think of the one I would most prefer her to have.
The story-telling was wonderful, as always. I loved Britt-Marie and the was she grew on everyone, also the way she grew on herself. I understood her character perfectly, and it was due to the author that she was so understandable.
He has a way of showing you people in a new light, and it's this trait that I love the most about this writing. The compassion, and the value in every person if you look for it.
I found the football part a bit hard because I don't follow football, and not being a supporter I wasn't aware of the nuances of each team – despite that being described well enough.
It was a lovely mix of Beartown and A Man Called Ove. Would highly recommend.