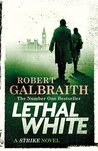 Lethal White by Robert Galbraith
My rating: 5 of 5 stars
I almost wished I had the time to read the whole series before I read the latest instalment as there was a lot of stuff I know I was a little hazy on throughout the book that had happened in the book before. Having said that, it didn't impact on the story itself, which as always was extremely well plotted, and wonderfully written.
I love the characters – although, I feel like Robin needs something to change in her character as she is so passive and quite frankly, very annoying. I also feel that her character has been building to this moment, and that she has grown enough that I trust the process to continue. So despite being annoying, I also understand her and can see that she is progressing to somewhere.
I had a few theories that were not correct, and I think that there was enough in there that the ending was satisfactory in how it all unravelled, and I was suitably surprised and impressed.
As with all the others in the series, I had a feeling of constantly being full while reading due to the copious amounts of food and beverages being written about! I love that the author is able to craft such a response simply by picking something that the character does often and giving the details of this experience in a way that makes it meaningful for the reader.
Can't wait for the next one!