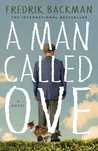 A Man Called Ove by Fredrik Backman
My rating: 5 of 5 stars
I haven't been able to focus on reading for about a year, maybe just a little over – but this book, I could not put down. I adored Ove, not at first and that was intentional I think, but by the end I was so impressed by his character.
The writer did an amazing job of riding the line between light-hearted banter and feel good scenarios, and crushing emotional insights into a cruel world.
The story had a wonderful depth of empathy to it, and in our world where empathy is in short supply I really hope it is taken up by all the readers out there who may not always look at other people's life and experiences when they judge and interact with others.
The epilogue was just enough of everything that I wanted to hear, it was perfectly ended in my opinion.
I laughed, cried, and got angry at some points of this story – it managed to fill me with all the emotions and I loved every second of it.